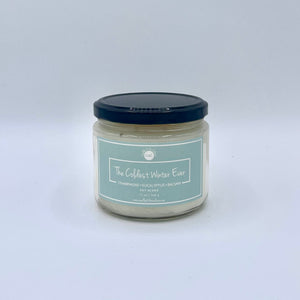 This candle is a tribute to the timeless novel by Sister Souljah. The eucalyptus note provides a chilly effect while the champagne and hint of balsam make this the perfect holiday fragrance. You are sure to love this scent just as much as you loved the book. 
Soy blend candle in 12 oz. jar
40+ hours of burn time
Hand-poured in Atlanta
Phthalate Free 
Notes:
Top: Pear, Champagne

Middle: Eucalyptus

Bottom: Balsam, Vanilla
Winter Has Come!
Do it! Turn the lights down low. Add a log to the fireplace. Grab your favorite blanket and cognac. Light The Coldest Winter Ever and snuggle up on your sofa. Exhale gently and drift away on TCWE's wintery scent.
Smells wonderful
It's a very light scent and fills up my entire home!
Smells soooo good
I have been refraining from using it as much as possible! The CWE part 2 is coming out in March so while I read I'll be burning this baby! But the minute I opened it I said WOW, yes.
Got the candle as a gift and they loved it!