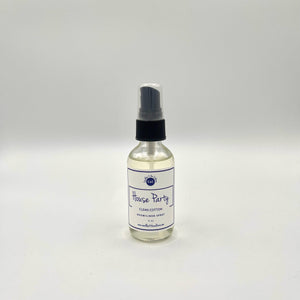 Perfect for a housewarming gift or for someone moving into a new home.

Room sprays are perfect for freshening any room, car, or linen.
This fragrance is pure and airy, reminiscent of clean cotton blowing in the breeze
2 fl. oz

Phthalate Free

Notes:
Top: Citrus, Peach
Middle: Lily, Jasmine, Rose, Green
Bottom: Woody, Amber, Musk

Ingredients: SD Alcohol, Water, Glycerin, Propylene Glycol, Benzophenone-2, Fragrance
THEE BEST
This is thee best room spray ever! I use it in my home, office, car, bathroom. The scent lingers. I'm just tired of all of my co-workers asking me to get them a bottle! Would love if I could just pay for the refill to recycle my bottles over again.
If you have boys, this one is for YOU!!
I have all boys. And if you are a mom of boys, especially ones that play sports, YOU NEED THIS IN YOUR LIFE!!! I use this spray in my car after games, when they have gas, and anytime I've left something in my car that shouldn't have been left there :( I keep this in the compartment on my car door, within reach, whenever I need it. It smells nice and clean!! I love it!