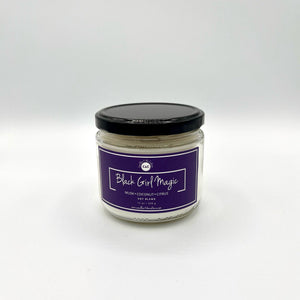 "Celebrate the beauty, power, and resilience of Black women."- Julee Wilson
This fragrance is a refreshing blend of fresh flowers and light coconut with a soothing musk and sandalwood base.
Soy blend candle in 12 oz. jar
40+ hours of burn time
Hand-poured in Atlanta
Phthalate Free 
Notes:
Top: Green, Citrus

Middle: Coconut, Floral

Bottom: Musk, Woody
Black Girl Magic
The "Black Girl Magic" candle is truly enchanting. Its scent is a delicate blend that captivates without overwhelming the senses. The balance between its captivating aroma and subtlety is commendable, making it perfect for any space.
Black Girl Magic is PURE magic
At first, I was a little apprehensive about buying a candled I hadn't smelled first, BUT I received such glowing feedback about this candle that I couldn't resist. The smell is EVERYTHING. It kind of puts you in the mind of vanilla, but with layers. You get tropical, then musk, then creamy vanilla/coconut. It's a treat to just sit and smell the scents as they reveal themselves, even better to look at when the glitter melts into the wax. 10/10 recommend
Black Girl Magic smells so good and is my #1 but sweet potato pie reminds me of my mother's cooki...
My FAVORITE Scent !!
Black Girl Magic is certainly my favorite scent!!! BUT... When I buy more candles I always get this one. I have the room sprays too. I had to get new room sprays because my sons kept trying to take mine. So, I took the opportunity to try new scents. I let my middle son keep 3 and I kept the other 7 or 8 (Don't judge me LOL) I'm glad we did that because I love alot of the other scents too!!! GLADE WHO?!!!
The smell
I love the smell of this candle makes the room smell so good