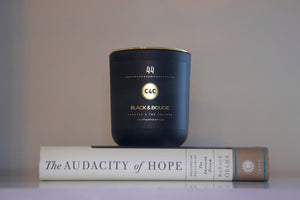 "44" is a tribute to the 44th President of the United States, Barack Obama. 
This fragrance is presidential. It blends the scent of driftwood and juniper for a scent that is both clean and masculine. 
Coconut apricot wax candle in a 15 oz. jar
90+ hours of burn time
Hand-poured in Atlanta
Phthalate Free
Notes:
Top: Seaweed, Driftwood, Oud 

Middle: Juniper, Lavender

Bottom: Tobacco, Vanilla, Vetiver 
No other brands of candles or room sprays for me!
I love my candles. I bought scent 44 from the B&B collection for my son. I brought it to him last night. He smelled it and immediately went to his room and lit it. He LOVES his candle. I cleaned his apartment yesterday (he plays football and they are always busy) I sprayed the room spray in the den and it smelled AMAZING!! I'm sure he will be asking for his own room sprays soon.