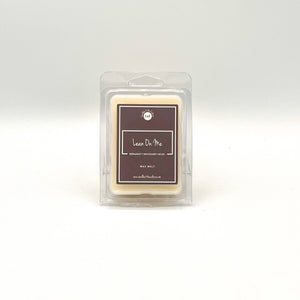 This candle is a tribute to the classic film. 
The fragrance is a warm blend of bergamot, mahogany, and musk that is both cozy and unisex.
Our wax melts are made of 100% soy wax and are safe for use in any standard warmer. Melt two cubes for optimal fragrance experience.
2.75 oz. of soy wax in a clamshell mold
Notes:
Top: Bergamot 

Middle: Mahogany 

Bottom: Musk
Light and Breezy
I've been laid out in my reading nook waiting on Mr. Clark to ask me to sing Fair Eastside lol. Melts are lightly scented, just right for a regular sized room. Not underwhelming or overbearing, just perfectly balanced.