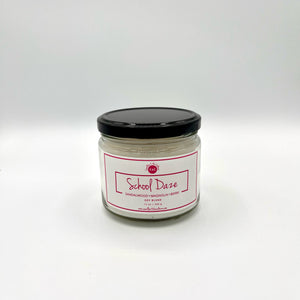 Celebrate the educator or student in your life!
This scent is reminiscent of berry sorbet with hints of summer flowers on a background of soothing sandalwood and warm musk.
Soy blend candle in a 12 oz. jar
40+ hours of burn time
Hand-poured in Atlanta
Phthalate Free 
Notes:
Top: Citrus, Berry

Middle: Magnolia, Lily

Bottom: Vanilla, Sandalwood, Musk
School Daze
Loved the freshness of the candle.
Absolutely LOVE these candles and the concept
I love these candles. The quality and concept are well worth the price. I'm always sad when my favorite scents sell out.
Scent is Amazing
The scent on this candle is amazing. Soft, slightly sweet. I love it. My only downside is the scent tends to get lost when you are sitting in a room with the candle lit however if you walk out and come back into the room you can REALLY smell the candle! I wish the scent was powerful enough to smell when you are also in the room with it but I do like the candle overall. I'm a heavy candle burner so I tend to like stronger scents. I would give this a 4.5.
Excellent product and service!!
Got these candles as a gift before and decided to gift more candles as Christmas for other loved ones. They were a HIT! And even in the midst of the postal service being overwhelmed..they still were able to make it to me in a timely manner! My only regret is that i didn't get any for myself! LOL.. But Candles 4 the Culture will definitely get my business and referrals again soon!