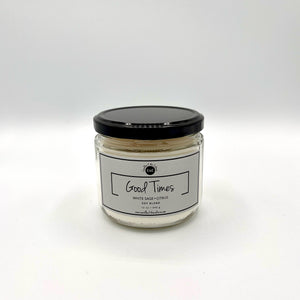 In this tribute to the classic sitcom, the blend of white sage and citrus will relax you and brighten your mood.
Soy blend candle in 12 oz. jar
40+ hours of burn time
Hand-poured in Atlanta
Phthalate Free 
Notes:
This scent!!!
I absolutely love the way this candle smells! It did not take me long to burn through it, as it is just that good. I really like the clean scent that it leaves in my home. It is powerful, without being overpowering.
White Sage to Die For
When I recently stopped into the Candles 4 the Culture storefront in the Atlanta area, my husband and I stumbled upon this beautiful double wicked Good Times candle. White Sage is by far my favorite scent and this candle fills my living room with it. The hot throw is pretty powerful and I might just be nose blind to white sage because I'm so used to it.
Good times, cream and sweet potato pie
I purchased 3 this time and I am in heaven! C.R.E.A.M has to be my favorite!
My favorite so far!
Love this scent! it wasnt too overpowering and was just what I was looking for! Thank you!
Wonderful
The large order of candles exceeded my expectations. Preparing to make my next order- and will use these as a part of my org's standard swag boxes.